Walk-behind Medical Waste Collection Cleaning Trolley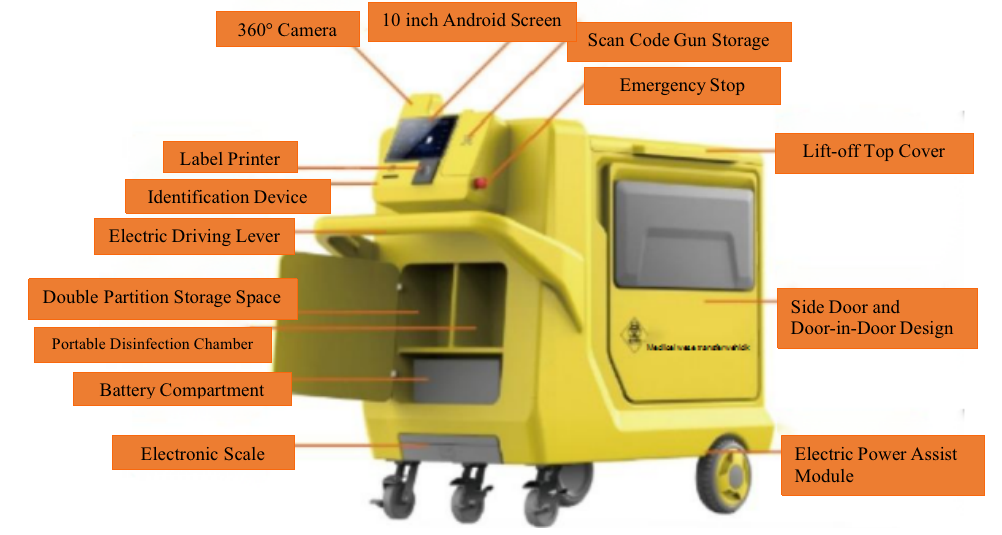 PRODUCT DESCRIPTION
l The vehicle body is made of PE material, one-piece molding without welding, with impermeability, light weight, rust and corrosion resistance, etc.
l The whole vehicle is equipped with code scanning gun, printer, identification device, intelligent electronic scale, touch color screen, all-weather wide-angle camera, etc., which fully meet the hardware standard requirements in the medical waste traceability system.
l This equipment is used in the transfer link of the medical waste traceability management system, and transfers the medical waste generated by the department to the temporary storage room. The use of electric assist improves work efficiency.
l This equipment has participated in the IF International Innovation Competition and has obtained a number of national patents.
Special Function

--Disinfection device, the pipe length 2.5m can cover the whole vehicle

--24-hour infrared monitoring throughout

--Removable plug-in device, convenient to carry work tools according to needs

Safe

--Very short braking distance, just a few centimeters

--Ergonomic handle design, suitable for more people

--One-piece handle plus full coverage to control walking, safe and reliable

Beautiful Appearace

--Unique design, compact layout

--The combination wheel design with full sense of technology

Efficiency

--Door-in-door design for easy drop-in and recycling

--Large volume up to 900L, reducing the number of repeated transfer
Walk-behind Medical Waste Collection Cleaning Trolley
Appearance size:

1650mm×850mm×1430mm

Material:

PE(Modified, Class B flame retardant,

UV resistant)

Battery Configuration:

Lithium Iron Phosphate

Turning Radius:

1650mm

Max.Weight Capacity:

500 kg

Motor configuration:

Dual hub drive motor,380W×2

Driving speed:

0-7.2km 0-5km

Working Time:

5-6h

Storage Bins Volume:

900L

Vehicle weight:

155kg

Max .Climb:

25%

Braking Distance:

50mm

Parking method:

Electromagnetic brake and electronic brake

Charging time:

3.5h

Driving Wheel:

256mm,Polyurethane and cast aluminum wheels

Open Door:

Top cover, side door and door in door

Display Screen:

10 inch Android

Height Above Ground:

225mm

Other configurations:

Printer,Electronic Scale,Code Scanning Gun,Disinfection devices, Cameras, etc.